Steel earnings continued to decline in the fourth quarter
On the supply side, in the first three quarters of this year, production capacity of the steel pipe suppliers was released rapidly. The output of pig iron, crude steel and steel were 612 million tons, 748 million tons and 909 million tons respectively, up 6.3%, 8.4% and 10.6% year-on-year. On the demand side, the global economic slowdown and trade friction have limited steel exports. Although the domestic economy is facing downward pressure, fixed asset investment has maintained steady growth, investment in real estate development is still growing at a high rate, and investment in infrastructure has picked up slightly, supporting steady growth in steel consumption such as round steel pipe.The overall supply and demand situation of the steel market is relatively loose, and the price of steel fluctuated downward. The average price of steel in the first three quarters of the year calculated by Lange steel research center was 4,149 yuan/ton, down 3.5% year on year.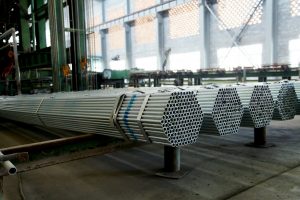 The decline in steel prices has affected the improvement of sales revenue of steel enterprises. The business announcement of the first three quarters released by liuzhou iron and steel company shows that in the first three quarters of this year, the total output of the company's steel products like square steel pipe was 5.815,900 tons, up 5.29% year on year, and the sales volume increased 3.34% year on year.
According to the monitoring data of 2019 years ago in the third quarter, average unit price of ore import is $96.06 / ton, up 37.1% year-on-year. Higher iron ore prices have increased steelmakers' production costs and steel prices have fallen somewhat from a year earlier, leading to lower profitability.
China's steel output has entered the peak platform period, which is a good period for enterprises to adjust and transform. According to the development of the first three quarters of this year, iron and steel enterprises are accelerating the upgrading and transformation. Yongxing special steel implemented the development strategy of "enterprise transformation and main industry upgrading" and laid out the lithium battery material field. At the end of August, the company's battery lithium carbonate project was put into use, marking the company's new energy development strategy of lithium battery from construction period to operation period. In the main industry, the company adjusted the structure of steel products like mild steel tube, appropriately increased the proportion of rod products, and increased the sales of high value-added products in the fields of electric power equipment manufacturing and transportation equipment manufacturing.
Tel: +86 18202256900 Email: steel@fwssteel.com
相关推荐