Operation situation of steel industry
From January to November, the iron and steel industry generally maintained a relatively stable operation trend, with the growth of output of structural steel pipe high before and low after, the steel price fluctuated downward, the industry benefit declined significantly, and the steel import and export both decreased. Specific present the following characteristics. First, the growth rate of steel output has slowed down. According to the national bureau of statistics, China's pig iron, crude steel and steel output in November were 64.77 million tons, 80.29 million tons and 104.02 million tons, up 2.1%, 4.0% and 10.4% year-on-year, respectively. From January to November, China's pig iron, crude steel and steel output were 739 million tons, 904 million tons and 1.05 billion tons respectively, with year-on-year growth of 5.1%, 7.0% and 10.0% respectively. Compared with the growth rates of 7.9%, 9.9% and 11.4% from January to June, the growth rate has slowed down.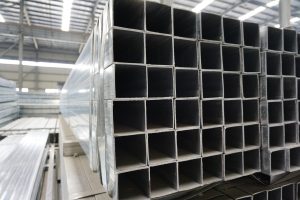 Two, the price of square steel pipe significantly decreased year-on-year. According to the monitoring of China iron and steel industry association, the average price index of Chinese steel from January to November this year is 108.5 points, down 6.9% year on year, among which the long material is down 5.5% and the plate is down 7.2%. Since the beginning of this year, although the steel price index has fluctuations, but the overall trend of downward shock. It reached a high of 113.1 in early May, then fell to the year low of 104.3 at the end of October, with a range of 7.8 percent.Recently prices have risen again, at the end of November, the steel price index of 108.2 points, up 3.7% month-on-month.
Third, mild steel tube tend to be stable.The iron ore price index rose sharply in the first half of this year, reaching a high of 426.3 points in the middle of the year. As of the end of November, the China iron ore price index (CIOPI) was at 319.3 points, up 5.1 points or 1.6% month-on-month, according to the China iron and steel association. Among them, the domestic iron ore price index is 320.6 points, down 10.0 points month-on-month, or 3.0%.The imported iron ore price index was 319.1 points, up 8.0 points or 2.6% month-on-month. Revenue growth profit decline. Affected by the rising price of imported iron ore and other raw materials, the increase in environmental protection costs and the decline in steel prices, the profit of the steel industry has declined significantly. From January to October, China iron and steel association member steel enterprises realized sales revenue of 3.54 trillion yuan, although the year-on-year growth of 11.0%, but achieved a profit of 158.8 billion yuan, down 34.1% year-on-year;The sales margin of steel pipe suppliers was 4.5%, down 3.1 percentage points from a year earlier.
Tel: +86 18202256900 Email: steel@fwssteel.com
相关推荐