How to select the proper type of Tianjin steel pipe in your greenhouse project
Tianjin steel pipe has a complete series of steel pipe specifications in the current steel pipe market. Every year, a large number of customers around the world come to purchase steel products in Tianjin. Tianjin steel pipe play an active role in the steel pipe industry both at home and abroad today. Tianjin steel pipe has been widely used a range of applications in the modern times. Here we would like to briefly talk about how to select the proper type of Tianjin steel pipe in your greenhouse project.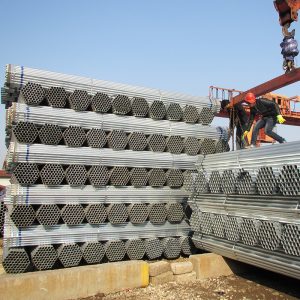 In general, a greenhouse frame building is an important part in greenhouse because it serves to provide both strength and insulation functions. In the current steel pipe market, you will find that there are several types of frame materials being used to construct greenhouses. In recent years, most commercial greenhouses prefer galvanized steel frames because they are long lasting, low cost, and require less frame work than any other framing material thanks to steel's natural strength. Tianjin galvanized steel pipe has been widely used as an important building frame in greenhouse projects in agriculture for a long time. Tianjin steel pipe has various types of galvanized steel pipe for your choice in the market, which has many comparative advantages when compared with other building frames. Generally, there are two major categories of galvanized steel pipe: pre galvanized steel pipe and hot dipped galvanized steel pipe. For example, Tianjin rectangular steel pipes have become very popular in many forms of construction and other structural & mechanical applications in greenhouse projects. This has been greatly assisted by the section's inherent flat surfaces making it more economical for joining and other fabrication processes. In addition, like CHS, RHS can be used for architectural aesthetics, possessing clean lines, too.
Furthermore, Tianjin galvanized steel pipe generally has the rational cost effective in the market. Especially Tianjin gi square steel pipe by virtue of its very good reputation and high quality, stand out from other types of structural steel tubes for many years. What's more, due to the durability and anti-corrosive properties, Tianjin galvanized steel pipe can be recycled in your greenhouse project if you have kept regular maintenance for galvanized steel body in applications, which to some degree save a lot of money during the post maintenance work. At present, more and more building owners, designers, architects, and general contractors prefer hot dipped galvanized steel pipes in commercial construction projects over other materials mainly for its energy efficiency, low maintenance, and durability.
Tel: +86 18202256900 Email: steel@fwssteel.com
相关推荐