Aluminium curtain wall would be the best option for your building in future
Nowadays, modern curtain wall design makes a hit both in commercial and residential building construction industry. Especially aluminium curtain walls can replace your existing solid walls to make an otherwise ordinary room into something spectacular. What's more, aluminium glazed walls effortlessly blur the divide between in-and outside, allowing your living spaces to be filled with panoramic views and natural light.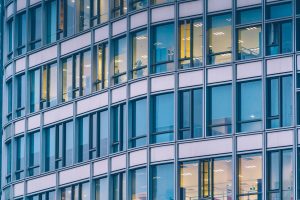 For a long time, curtain wall systems and window wall systems are used as building envelopes to assure maximum daylight intake within the interior space, which can create a safe and comfortable environment for the building's occupants. Furthermore, aluminium curtain walls are a popular choice because of their high aesthetic value and their limitless possibilities in architectural applications. Since the building envelope remains one of the most important exterior elements for building functionality, aluminium curtain wall facade can be an elegant component that helps to define the unique architectural aesthetics of the building. Vision panels and spandrel panels of varying color and depth can provide a texture and weight to a facade that enhance the visual appeal. A simple design with standard capping is typical of a basic curtain wall installation.
Design and Aesthetics of Aluminium Curtain Walling
In general, any building exterior needs structural integrity and weather protection. In that regard, aluminium curtain wall is generally designed for much more strength and long service life. Specifically speaking, one obvious advantage of this glazing design is its non-structural nature. As a result, any wind-loads and stresses transfer to the main building structure. Thermally efficient, fully sealed, built-in expansion and easy installation are other benefits. Besides, this type of curtain wall has lower cost compared with traditional building materials. Therefore, it's widely used in keeping down construction costs. In practical applications, impressive performance as well as flexible configuration can also give greater scope to the building architects. Colours, glass choices, and aesthetics all create better architecture. In certain applications, glass curtain wall system comes with double or triple glazed. It's also fully integrated with any type of opening windows and all types of patio doors.
Advantages of Aluminium Facade Glazing
*Excellent energy efficiency, air, wind and water protection thanks to insulated profiles and high-performance glass;
*Long-term energy savings over the life of the building;
*Large or small units make curtain walling suitable for virtually any design including residential property;
*The ability to span multiple floors or individual segments between floors;
*Substantially stronger than windows, offering similar 50mm sightlines.
Tel: +86 18202256900 Email: steel@fwssteel.com
相关推荐