Tianjin galvanized steel pipe performance in projects
It is obvious that in the current steel pipe market, a variety of kinds of steel pipe are widely used as structural steel pipes in construction applications today. In recent years, with the implementation of the national strategy "go out" and the international economic globalization, Tianjin galvanized steel pipe is actively engaging in the international market and has played a very significant role in international business trade. In the steel pipe Kingdom, galvanized steel pipe is a very important member of steel pipes, which has been widely used in a variety of applications in life today.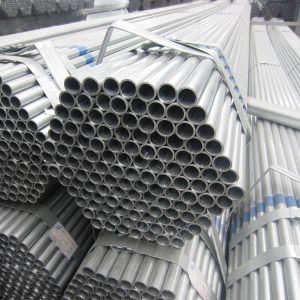 Today, corrosion and repair of corrosion damage are a big deal of expense in projects every year. Estimates show metallic corrosion costs the United States approximately $297 billion annually, or about 3% of the national GDP. Although corrosion is a natural phenomenon, and can never be completely eliminated, utilizing adequate corrosion protection systems in harsh environments can drastically reduce the costs. Hot dip galvanizing after fabrication is a cost effective, maintenance free corrosion protection system that lasts for decades even in the harshest environments. For more than 100 years, hot dipped galvanized steel pipe has been utilized extensively to combat corrosion in major industrial environments including petro-chemical, transportation, and public utilities.
Hot dipped galvanized steel pipe has been considered popular a lot among many users today. For one thing, the galvanization process protects the steel from rusting damage that can occur during transportation, installation and service. The zinc layer on the surface of pipe can form a barrier protection for steel products to extend the service life in applications. For the other thing, this layer is also resistant to wear and scratch, which makes the steel look more attractive. Hot dipped galvanizing is a factory-controlled process performed under any climate conditions. The galvanizer's ability to work in any climate conditions provides a higher degree of assurance of on-time delivery. Furthermore, no climate restrictions means galvanizing can be completed quickly and with short lead times.
Pre-galvanized steel pipe is another very popular type of galvanized steel pipe widely used in various applications in the modern times. This type of galvanized steel pipe was galvanized while in sheet format, thus prior to further manufacturing. Pre-galvanization is also known as mill galvanized, due to the fact that the steel sheet is rolled through molten zinc. After the sheet is sent through the mill to be galvanized, it is cut to size and recoiled. One of the advantages which pre-galvanized steel pipe has over hot dip galvanized steel pipe is that it has a better appearance. Pre-galvanized steel pipe has become very popular among people in the steel pipe market now.
Tel: +86 18202256900 Email: steel@fwssteel.com
相关推荐