Mild steel pipe used in wire system projects today
Wiring systems in buildings may be subject to frequent alterations. Frequent wiring changes are made simpler and safer due to applying steel conduits in applications, as existing conductors can be withdrawn and new conductors installed, with little disruption along the path of the conduit. In most cases, steel conduits come in different styles from fairly strong construction to extremely rigid conduit that you could actually drive over without damaging it.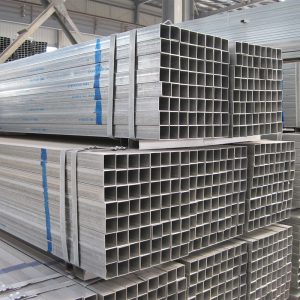 In the current steel market, there are a variety of steel pipe can be used for steel conduit. And the most common type of steel conduit is mild steel pipe due to its good performance in service. First of all, mild steel pipe is frequently used because it is durable and safe. Most common wire systems may be susceptible to rotting and pests. Steel will not rot and is impervious to pests like termites. Furthermore, steel also doesn't need to be treated with preservatives, pesticides or glue, so it is safe to handle and work around. Since steel is non-combustible and makes it harder for fire to spread, it is good to use when building homes. Steel frame buildings are more resistant to natural disasters like tornados, hurricanes, lightning strikes, and earthquakes. And mild steel pipe is highly resistant to shock and vibration. Fluctuating water pressure or shock pressure from a water hammer have little effect on steel. For any given pressure, mild steel pipes can be made much thinner than pipes made from other materials, so they have a greater carrying capacity than pipes of other materials with the same diameter. And its versatility also makes it cost-effective. China steel pipe suppliers can make pipes in many dimensions, from less than an inch to over five feet. They can be bent and wrought to curve and fit anywhere they need to be. Joints, valves and other fittings are widely available at good prices.
In applications such as residential construction, the high degree of physical damage protection may not be required, so the expense of conduit is not warranted. Conductors installed within conduit cannot dissipate heat as readily as those installed in open wiring, so the current capacity of each conductor must be reduced if many are installed in one conduit. It is impractical, and prohibited by wiring regulations, to have more than 360 degrees of total bends in a run of conduit, so special outlet fittings must be provided to allow conductors to be installed without damage in such runs. In most cases, hot dipped galvanized steel pipe serves as a useful bonding conductor for grounding due to its good performance of anti-corrosion in service. However, some wiring regulations may also dictate workmanship standards or supplemental means of grounding for certain types.
Tel: +86 18202256900 Email: steel@fwssteel.com
相关推荐