How to Select The Right Glazing for Your Curtain Wall Building?
Glazing is part of the skin of the building which allows certain elements of nature to come into the internal space. For glass curtain wall systems, there are a variety of glass glazing available in the current market, such as float glass, tinted glass, clear glass and all of them can be installed as double glazing units. Specifically speaking, float glass is the basic unit of glass; tinted glass is used to reflect some harsh sunlight, so the heat gain is minimized; clear glass is a float glass itself, but used to enhance the level of clarity from outside in.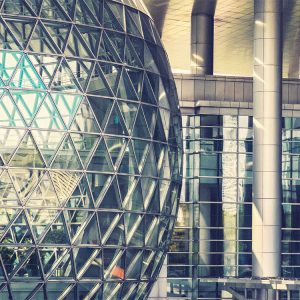 As a rule, how the curtain wall glazing performs well in the fenestrations is based on several factors as follows:
-Thermal U-value
-Visible light transmission(VLT)
-Solar heat gain coefficient of the glazing unit (SHGC)
-High reflectivity in a glass is not desirable as it leads to urban heat phenomenon
-For an aesthetic value, the color tint of fenestration glass must also be taken into account.
As a rule, the performance of curtain wall glazing depends on factors like the Visible Light Transmission (VLT), Solar Heat gain coefficient (SHGC), etc. The ultimate aim is to achieve a lower SHGC along with the best VLT percentage for an optimum balance of heat gain and daylight. These years, with high thermal performance being the main concern, many people are now looking for double or triple paned glass windows. In practical applications, double or triple-paned glass windows are connected by a spacer, effectively trapping the heat inside and not letting leaks in. Various typologies of Low-E glass are designed to allow high or low solar heat gain depending on the requirements. For some curtain wall facade systems, tempered glass would be a smart choice for windows. The rapid heating and cooling for its manufacturing make this glass about four times stronger than untreated glass.
In the current market, unitized structural glazing system and Stick-built structural glazing system are the two popular types of modern curtain wall designs in curtain wall construction industry. In some modern commercial buildings, spider glazing becomes very popular, which is widely used in curtain wall systems where they provide a flush external appearance with uninterrupted views. In practical applications, spider glazing curtain walls provide maximum daylight for building interiors, as well as the possibility of placing large transparent glass surface as building envelopes. Due to its visual attractiveness such architectural building envelopes, spider glazing curtain wall has been widely used on commercial buildings to create premium building skills.
Tel: +86 18202256900 Email: steel@fwssteel.com
相关推荐