Steel needs will be strong
First, infrastructure construction will usher in a new upsurge.The meeting made clear priorities for economic work in 2020. Steel pipe suppliers will continue to focus on key areas, strengthen areas of weakness and strengthen areas of strength. In view of the country's long-term development, we will strengthen strategic and networked infrastructure, strengthen municipal pipe networks, urban parking lots and cold-chain logistics, and speed up the construction of rural roads, information and water conservancy facilities. Therefore, it is predicted that China's infrastructure construction may usher in a new climax next year, which will inject strong impetus to the "steel demand", especially the construction steel demand strength will not be weakened.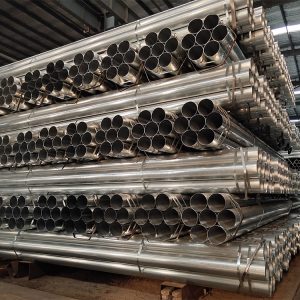 In addition, "steel demand"of round steel pipe will be developed in the new infrastructure construction in 2020. In 2020, China will vigorously promote the deployment of 5G network, accelerate the pace of 5G commercial use, and accelerate the construction of new infrastructure such as artificial intelligence, industrial Internet and Internet of things. Unlike the steel used in traditional construction, the new type of infrastructure mainly consists of construction steel. In addition to the construction steel, the new type of infrastructure also requires a large number of high-performance superior steel, special steel and stainless steel.New infrastructure construction will be an important starting point of "steady growth" in 2020, and will also be a potential source of demand and growth of the steel market in 2020.
Second, the regional development strategy will boost the "steel demand" of rectangular hollow section. The meeting made clear that by 2020, the strategy for coordinated regional economic development will be steadily advanced and a large number of regional infrastructure projects will be completed. We will continue to build the sichuan-tibet railway and other major projects, promote the coordinated development of the beijing-tianjin-hebei region, the integrated development of the Yangtze river delta, and the guangdong-hong kong-macao greater bay area, and build a world-class innovation platform and growth pole.We will make solid progress in the development of the xiongan new area, implement the measures of "jointly protecting the Yangtze river economic belt", and improve the comprehensive carrying capacity of central cities and urban agglomerations. Statistics show that the beijing-tianjin-hebei region, the Yangtze river delta, guangdong, Hong Kong and Macao, with 5% of the country's land area, have gathered 23.3% of the population and generated 39.3% of the GDP. It can be predicted that in 2020, these urban agglomerations will become new growth points and highlights of "steel demand"of mild steel tube. At present, key projects in xiongan new area are being vigorously promoted.The xiongan new area is vigorously promoting the construction of four key areas.
Tel: +86 18202256900 Email: steel@fwssteel.com
相关推荐