Why does curtain wall construction become so popular today?
In the modern society, curtain wall buildings become very common in some large cities around the world. When we are wandering in the street, we can often find some tall buildings with curtain wall glazing which look like so amazing. Technically speaking, curtain walls of a building are generally composed of vertical and horizontal framing members to structure the wall itself. And these walls can be built from many different materials depending on the desired appearance of the building.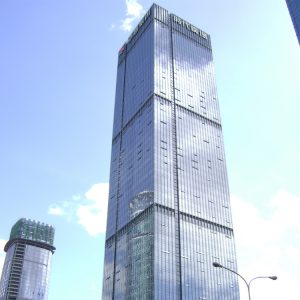 In the current market, curtain walls are generally categorized by how they are assembled and installed in applications. There are two major types of curtain wall assemblies as below:
-Stick or modular systems where the curtain wall frame and glass panels are installed and connected piece by piece.
-Unitized systems where the wall is made of large components that are assembled in a factory and put up at the construction site. Unitized systems put larger components of the wall up at a time.
Both of these methods of building a curtain wall can include either interior or exterior glazed systems, and both types of glazing have their benefits and drawbacks. Interior glazed systems allow windows and other glass to be installed from inside the building, however, air infiltration is more of an issue in these systems. Exterior glazed systems have panels that are installed from the exterior of the curtain wall, but these may be difficult to install as they require scaffolding access. The materials that are installed in these systems can promote light transmittance through glazing choice, tint choice, and shading methods used.
In practical applications, in spite of the higher curtain wall costs than the traditional materials in building projects, modern curtain wall design do provide many benefits to buildings. By taking into account the material used when building the wall, there can be energy savings due to reduced heating and cooling loads on the building. By using glass or other types of glazing that use an e-coating, temperature inside the building can be regulated more efficiently by the building. As well, glass curtain walls allow more light in, reducing the need for artificial lighting depending on the placement of the wall. Ensuring that a curtain wall is properly built can reduce air leakage in the building by sealing it well. This in turn improves the thermal performance of the building itself by controlling cool drafts. In addition, aluminium curtain wall can help to soundproof the building, and this function is primarily a byproduct of the glazing choice and the strength of the seals that prevent air leakage. Furthermore, installing a good insulator, thus making the construction airtight which can improve the levels of soundproofing a building has.
Tel: +86 18202256900 Email: steel@fwssteel.com
相关推荐