How to look at spider glazing used in modern curtain wall building?
Spider glazing is part of the frameless curtain wall to provide a flush external appearance with uninterrupted views for the modern high-rise buildings. Furthermore, spider glazing curtain walls provide maximum daylight for building interiors, as well as allowing maximum transparency and brightness optimization and unique design for the modern buildings nowadays.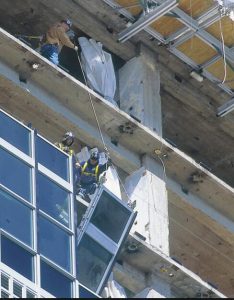 Spider Glazing Specifications
– Spider glazing is a very flexible and contemporary design medium that can create designs with vast expanse of glass, frameless entrances and canopies.
-All doors and windows can be inserted in the spider glass area.
– Tempered or heat soaked glass can be used in spider glazing systems so as to have the performance of a safety glass facade. The glass thickness that is used is usually 12mm thick.
-Spider glazing can be designed to resist wind pressure. It can be fixed with either 2 way spiders or 4 way SS spiders fitting options. Fin glass support could also be used to resist wind pressure.
– Silicone sealants and gaskets are generally used to make the glass frames watertight.
– Spider glass curtain wall allows full penetration of natural light into the interiors;
– Spider glazing is easy to install and maintain.
Advantages of Glass Curtain Wall Spider Fittings
Point support curtain wall is an emerging technology, which reflects the circulation and integration of the inside and outside of the building. It changes the traditional practice of using glass to express windows, curtain wall and zenith, and emphasizes the transparency of glass. Through the glass, people can clearly see the whole structural system supporting the glass curtain wall, transforming the simple supporting structural system into visibility, appreciation and performance. Nowadays, owing to their easy installation and maintenance, spider glazing systems are widely used in offices and building complexes. All uPVC doors and windows can easily be inserted in spider glass areas. Amidst it all, spider glazing installed with the help of glass spider fitting has come up as an effective solution for exterior bolted glass assemblies in the modern commercial buildings.
Tel: +86 18202256900 Email: steel@fwssteel.com
相关推荐